Notes from the Field - "Cherokee" Huckins Restoration Project
24 September 2001
It has been exactly one year since Cherokee got a roof over her head and the first Huckins Update page went up. Glad to be past the ripped-out and torn-down phase, Cherokee is looking good on the runway to integrity and grace. During this blustery, soggy week of rain, rain, and more rain, the Huckins is withstanding the indignity of wearing Spring colors during the onset of Autumn. Her hull has been painted Easter purple, which is getting sanded off to detect uneven places in need of filling.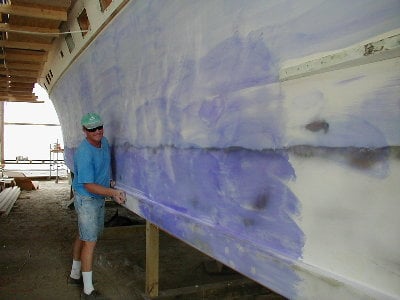 The Purpled Hull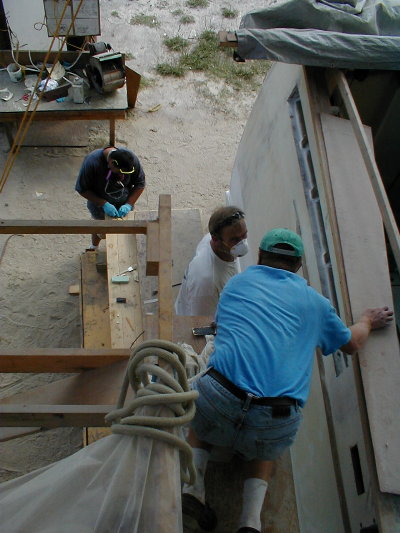 Leonard Overseeing the Crew
The newest crewmember is Tom Parker, carpenter and drummer extraordinaire. A native New Yorker, Tom likes a fast pace and a full "to-do" list. Starting off with one of the nobler jobs, he's working on the waste plumbing by gluing it together and testing it for leaks. Meanwhile, Jim is fabricating the tumble-home rub rails. "Tumble-home" or "housing in" is the opposite of flare. Old wooden warships were known for their tumble-home sides, where the width of the upper deck was less than the lower decks to accomodate the bigger guns below (bigger engines in this case).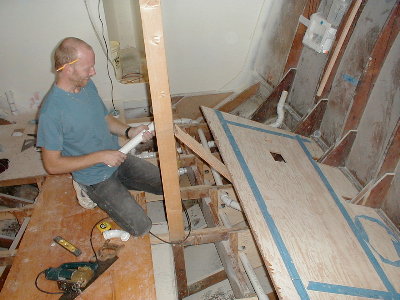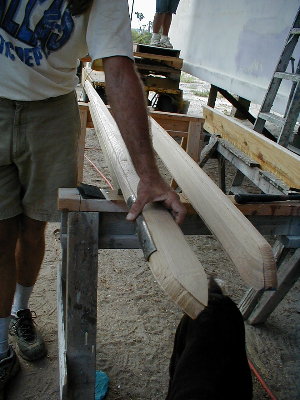 Tom Gluing Plumbing, Jim Displaying New Rub Rail
The deck boxes or lockers continue to be built, sanded, and painted. These will double as storage and seating. The box below awaits a coat of paint.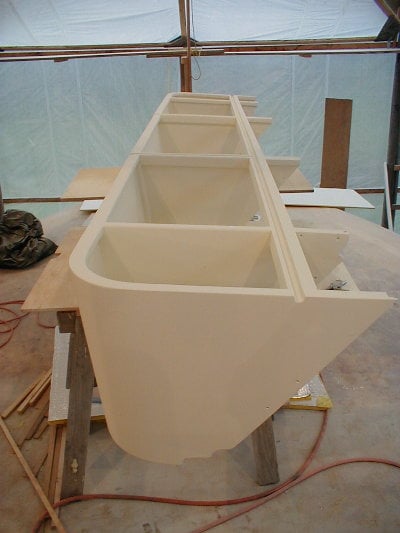 Deck Box
Bryan and Jeff have been busy planning the wing wall and door that leads forward. The wing wall will incorporate a settee/deck box. The wing door leading forward is shaped in a quarter circle.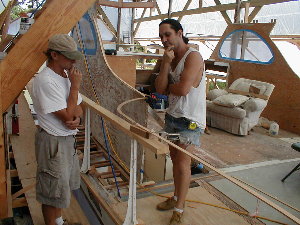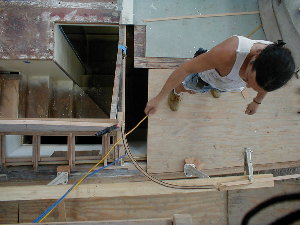 Jeff and Bryan Planning the Wing Walls on Imagination Monday
Below left is a wing wall with its settee. A pattern in the shape of a wing door lies on the deck in open position, which will nestle against the settee when opened. On the right, the form shown atop of the boat is used to laminate the corners of the deck box/settee along the wing wall as well as the wing door itself.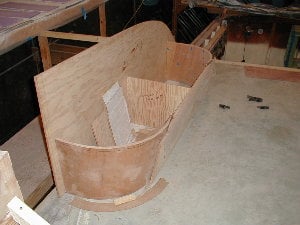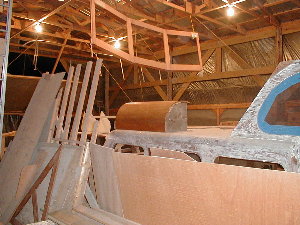 Wing Wall and Form Atop of Boat
Bill Brown wanted to make sure we got a picture of the new oil pans. Below is one of two low-profile pans getting prepped for paint.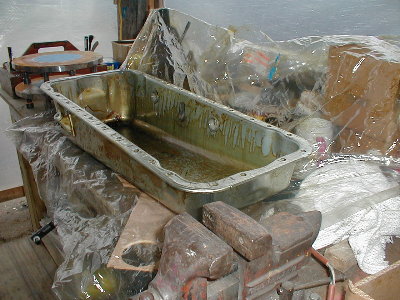 A Stunning Oil Pan
What's faster than a canoe, slower than a bass boat, and quieter, as child philosopher Aren Blake put it, than "a mouse reading"? A little wooden boat you can plug in and go. Fish Doc stopped in at Budsin Boats in Marshallberg, where a crew of four gathers daily to build the electric boats designed by Tom Hesselink. Tom, originally from Wisconsin, started the business thirteen years ago, and has been "quietly building boats" in the 'Berg ever since, and he and his work seem to be a good fit with the village. His Lightning Bug design is a two seater - seats that actually face each other, harking back to when people enjoyed slow moving, peaceful afternoons of shared time and conversation. Tom's shop is tucked along a back road, marked by a little wooden sign. Businesses like Budsin barely make a ripple on the surface of sleepy communities like Marshallberg, yet are one of the undercurrents that keep it vital and unique.
Signing off for now,
Barbara "Fish Doctor" Blake