Notes from the Field - "Cherokee" Huckins Restoration Project
18 September 2003
Hurricane preparations were underway, as Isabel seemed intent on making a beeline for the Huckins site in Gloucester! Isabel's eye was expected to cross Carteret County Thursday at noon, with an eight to ten foot storm surge, the likes of which has not been seen in this area for many decades. The crew prepared for Category 2 winds by securing Cherokee in the middle of the creek where she has less chance of getting battered. The guys also secured all loose debris inside the Huckins as well as the surrounding yard and shed. Bryan figured the Cherokee would fare well, but he wasn't so sure about all that plastic that's covering the facility!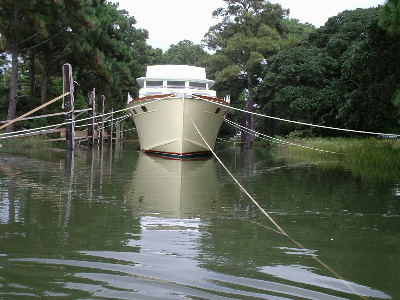 The Huckins Tied Down and Ready for Isabel
Below, Bryan's surveying various lines from the trusty canoe. The creek is usually full of boats and is crisscrossed with spiderwebs of rope, but it's less crowded during this hurricane because a lot of fishermen happen to be shrimping in South Carolina. Bottom right shows Casey guarding two tie-up points - the tree in front of him and the massive oak behind him. According to Lloyd Pigott, deceased fisherman and pioneer Claude Brown was "never happy until he tied up to that big oak during a storm."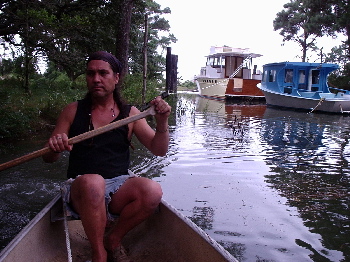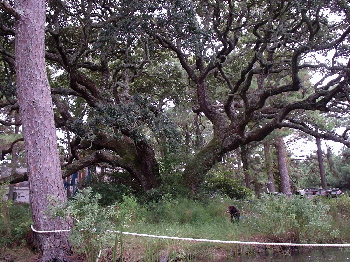 Big Chief Huck-A-Buck and Little Brown Happy Mutt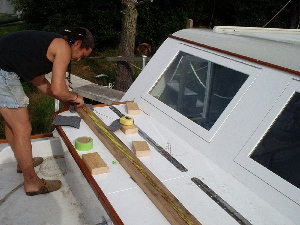 Battening Down, Cap'n!
Above, Bryan's securing the storage boxes on Cherokee's bow. Below, the windows are freshly sealed to prevent water leakage, and strapped down tight.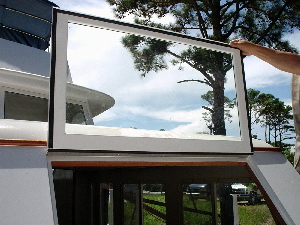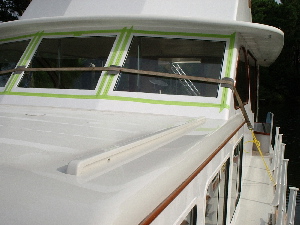 Hurricane Preparations Underway
Isabel is here and it's a direct hit! Bryan checked on the Cherokee about 4:00am as Isabel was just strutting her stuff, but the boat was good and secure. The storm struck with a vengeance about 11:00 am, and the pictures below were taken after the eye passed overhead and the winds shifted out of the southwest.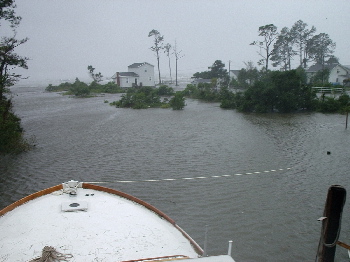 A View of Isabel from Cherokee's Bow
"The Cherokee has no damage," reports Bryan. "But there's more water down there than I've ever seen. We've got eighteen inches in the shop." The plastic withstood an amazing amount of punishment, but the back wall of the facility was blown out. Folks are comparing the storm surge from Isabel to the '33 storm. The villages of Cedar Island, Atlantic, and Sea Level are especially flooded. Nobody in eastern Carolina has power, and some half million people will be dining to candlelight tonight.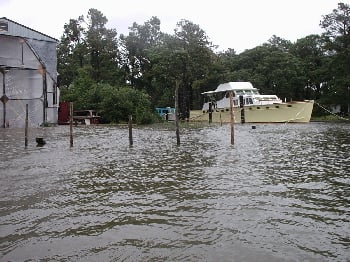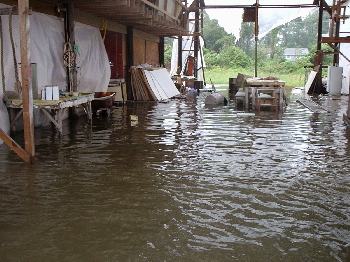 Cherokee Sitting Pretty, High Tide in the Shed
Lloyd Pigott got water in his shed as well, but all boats are fine. The truck shown below has a vessel's rope tied to it. If there's no tree or piling available, fishermen will find a way to secure the means of their livelihood!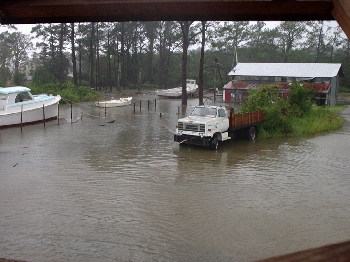 A View of Lloyd Pigott's Railway from Blake's Office
"My boy Bubby stayed on the Miss Mogie during Hugo in South Carolina," recalls J.M. Brown as he tied up the Lady Beth. "He ran her down near Conway and tied up to some cypress trees. The crowd from Salter Path stayed in McClellanville and ended up with their boats on the marsh!" What could possess fishermen to stay aboard during a screaming storm? "That's the place to be during a hurricane," J.M. grins. "You rise with the water!" Some fishermen keep their engines running and pretend they have a little control. But lots of big trawlers ended up scattered along marshes, fields, streets, and yards after Hugo, as you can see in the movie Forrest Gump. Bryan decided to lend a hand to Tarheel fishermen that October of '89, so he spent a week in McClellanville getting vessels on rollers, and edging them back in the water where they belonged. The fishermen bunking with Bryan appreciated the help, but weren't so sure about the price - they had to listen to his catterwalling night after night as learned Cajun fiddle.
Signing off for now,
Barbara "Fish Doctor" Blake