Notes from the Field - "Cherokee" Huckins Restoration Project
15 August 2001
Unlike our mascot Casey, who chooses to ride out the dog days of August sleeping beneath vehicles and rolling in cool mud, Cherokee is flourishing under the late summer sun. Much of the plumbing is installed, the rope locker is primed and painted, and the new bumper is completed. The entire bottom has been successfully sheaved in Kevlar, the same material used in bullet-proof vests. Not only does this afford a good amount of puncture-resistance, it should come in handy should the boat fall victim to heavily-armed flounders.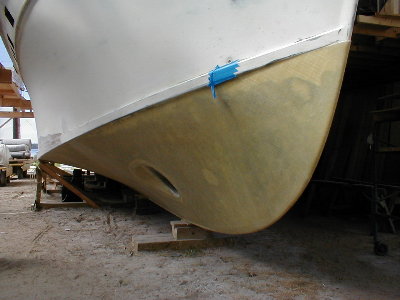 Kevlar Sheathing on Bottom
Part of the Kevlar process involved the placement of microballoons on the bottom. Then the crew sanded the microballoons so as to fill the weave of cloth, enabling them to avoid sanding away the reinforcing fibers.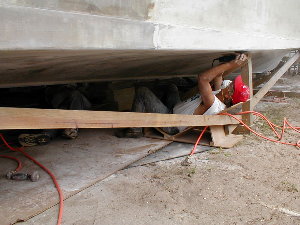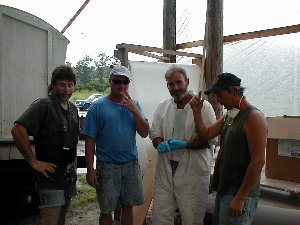 Bill Sanding Microballoons, Whatta Crew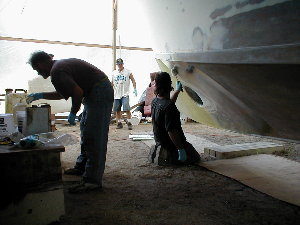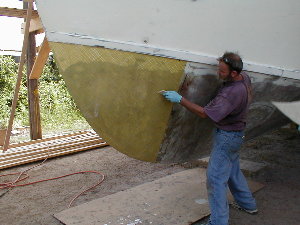 Kevlar In Progress
Interior painting continues. Below, Bud uses the purple paint as an index of low and high areas that need sanding. Level, smooth, and - as they say Down East - slick ca'm is the goal.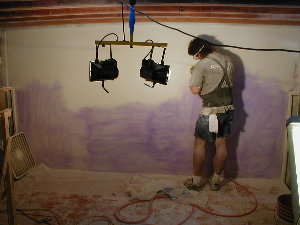 Bud Sanding and Painting
The engine room has been primed and the final coat of paint sprayed. Now it looks too clean and pretty for engines. Bill Brown has designed and installed two 300 X 400 intakes, which will cut down engine noise considerably.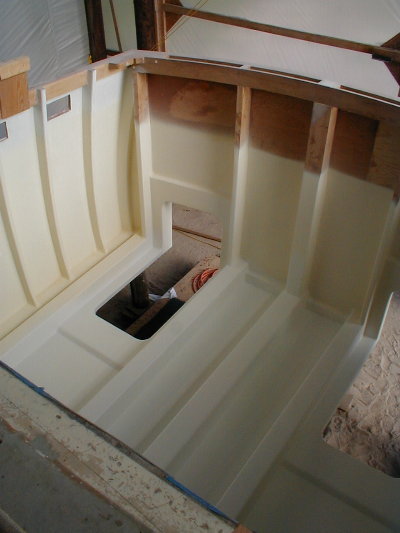 Engine Room Primed and Sprayed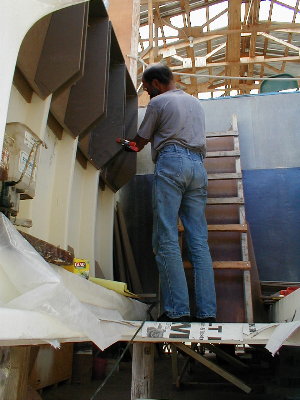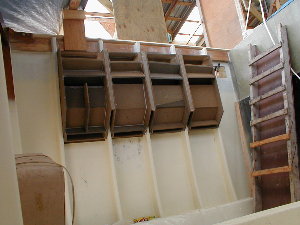 Bill Brown's Intake Installation
Bill B. has also been busy fabricating the motor mounts for the engine. He made them at Fred Lindo's machine shop in Morehead City, and had them welded at Hancock and Grandson's in Straits. Here they wait, next to the engine, like precious bars of silver. Nice job, Bill.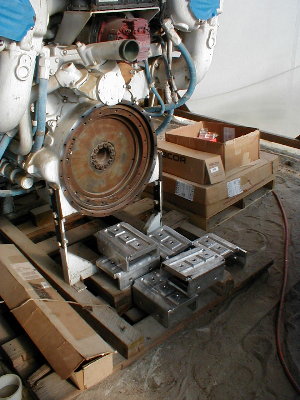 New Engine Mounts
Although it has been a less-than-spectacular crab season, several weeks of crabbing remain. "Casa de Jaiba" is what Mexican pickers call crab houses. Most the the remaining crab houses in eastern North Carolina rely heavily on Latina women, the majority of which work here by virtue of H-2 visas. H-2 visas certify that laborers will work for a single employer at a specified task, without the option of quitting for alternative work in the U.S. At first, some Latinas complained that this set up a system of patronage whereby the crab processor controlled living, eating, and leisure-time arrangements. Now, as more Mexican and Central Americans move into Eastern Carolina and hold all sorts of jobs, impressive support networks have been established, allowing the crab house women more living and quittin' time independence. Meanwhile, they endure awesome distances between themselves and their loved ones, wiring money home for their kids, family, and community until rejoining them in the winter. Que bueno!
Signing off for now,
Barbara "Fish Doctor" Blake