Notes from the Field - "Cherokee" Huckins Restoration Project
7 July 2006
While the crowds enjoyed the tall ships in Beaufort this weekend, Down East quietly worked on its small ships and traditions - Bryan Blake and his sixteen-year old son Aren are refurbishing a 28-foot skipjack Maggie, originally the Nattie Lou, built by Blake Boatworks in 1982 for Joe and Natalie Parker. Maggie, now owned by Jeff Williams of Topsail Island, was damaged in one of the many hurricanes that ravished the barrier island. She got a good beating, including lightning that hit and split the top five feet of mast. Bryan found out recently that hurricane Katrina totalled a motor sailer that he built - the Kingston Girls - which was moored in Lake Ponchartrain. Fortunately she too is getting repaired.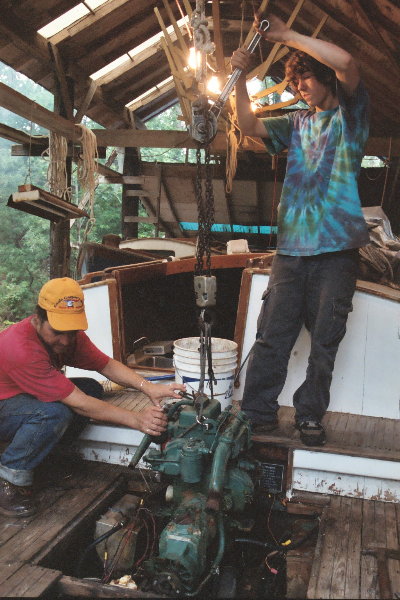 Removing the Engine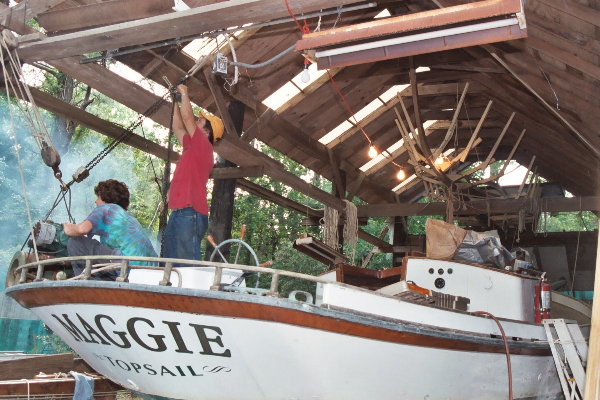 Drifting the Engine over the Side
Skipjacks were originally used for oyster dredging in the Chesapeake Bay. They were also used in the sounds of North Carolina - the shallow draft of a Skipjack is ideal for the shoals of water bodies like Core Sound. The favorite sail vessel around these parts was the Core Sound Sharpie - a flat bottom boat with leg-o-mutton sail. Bryan has built several happy sharpies throughout the years.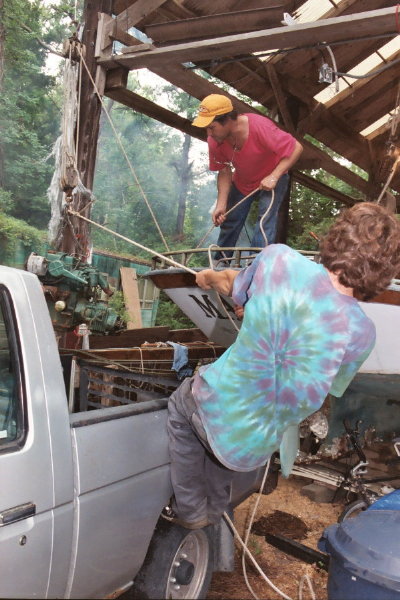 Hoisting it Over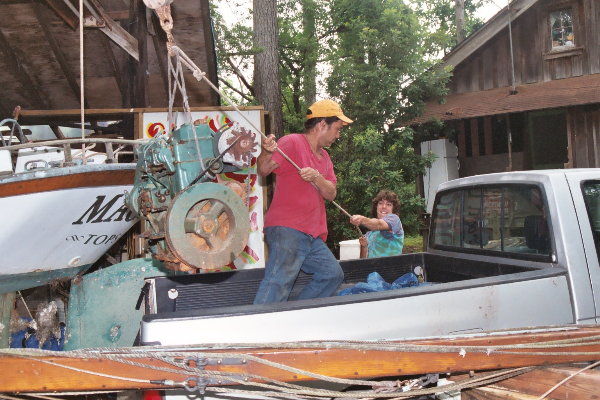 Loading Engine in Truck, Damaged Mast in Foreground
The deck of Maggie will be entirely re-calked in cotton. Her mast will be repaired and varnished. She'll receive a new paint job, with some interior work as well. The Volvo engine will be replaced, and she'll likely get new sails. Building sails for traditional boats is becoming a lost art, as Skipjack sails were built for power - plowing through the water with a heavy dredge. Modern sailboats typically require sails that are cut for speed.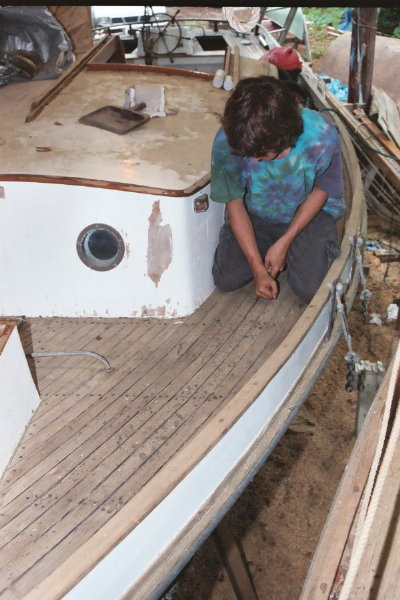 Aren Reefing the Deck
Above, Aren is reefing the deck seams with a "reefing iron" (old screw driver with tip forged into a sharpened hook) which involves pulling all of the old rubber and cotton out so that new cotton can be put in and deck leaks repaired. This is a very labor-intensive job that often requires a Walkman and some Grateful Dead jams. Below is an old photo of Maggie with her sister vessel, the Emmy Lou, built by Blake Boatworks in 1983. There's no finer ride than sailing to the Cape on these boats.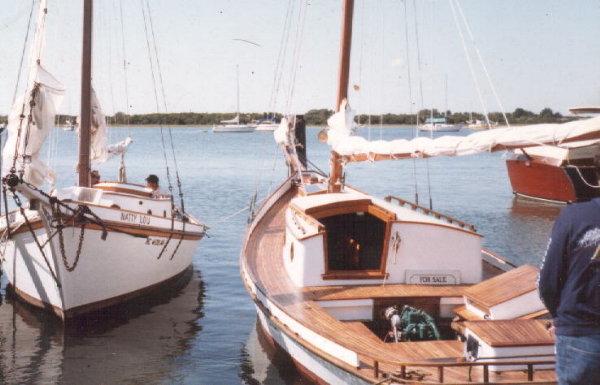 Sister Ships - Maggie on the left
It's been a trying time Down East - the building boom has finally crossed the North River bridge, and strange asphalt cul-de-sacs are popping up everywhere, seemingly floating on marsh. These, of course, will soon be followed by big houses in subdivisions with names like, "Marsh Haven", full of some of the 10,000 baby boomers who are retiring in this country a day! What will this development do to the traditional fishing villages and fragile estuarine environment? Will our tasty oysters survive, or will they join the ranks of permanently closed shellfish beds that become polluted with stormwater runoff? Citizens have formed a grassroots group called, "Down East Tomorrow," and petitioned Carteret County commissioners to enact a one-year moratorium on high density growth so communities can plan wisely for the future. Despite 2,600 hundred names on a petition and expert testimony emphasizing the need for a moratorium, the commissioners declined to support this request and instead are planning their own set of ordinances without community involvement. One commissioner supported a moratorium Down East and lived to tell about it, winning the primary - Jonathan Robinson, a commercial fisherman from Atlantic. There he is below, doing what he loves best - long-hauling in Core Sound. Let's hope the next election brings aboard commissioners like Jonathan who care about citizens, the environment, and the communities dependent on clean water and healthy resources.
Signing off for now,
Barbara "Fish Doctor" Blake