Notes from the Field - "Cherokee" Huckins Restoration Project
28 May 2003
Like the slow unwrapping of a gift, each day at the site is full of surprise and delight as the beauty that is Cherokee starts revealing herself. Despite the incessant rain, the paint crew has finished the red boot stripe, depicted below. See Bryan removing the tape and paper to reveal the nice combination of red, Fighting Lady Yellow, and the varnished transom!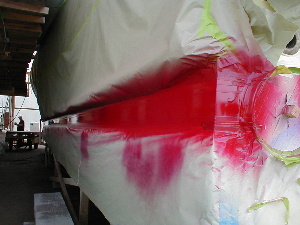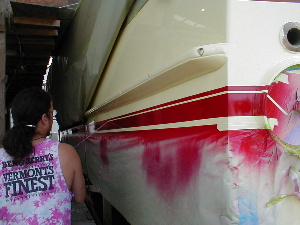 Unmasking Cherokee's Red Boot Top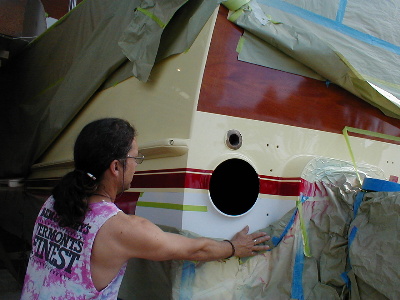 Surprise!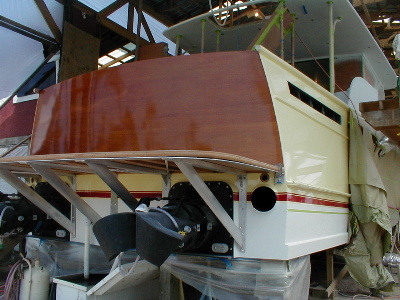 Full Stern View with Swim Platform
Is that a mermaid below at Weeki Wachi Springs reaching for her air tube? No, it's Jeanette, finishing up the ceiling in the master stateroom. The master head floor has been fitted as well, depicted below right.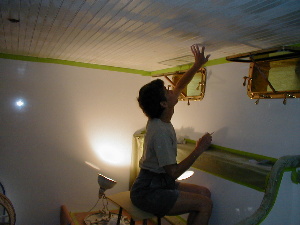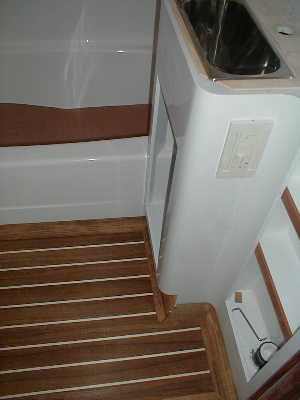 Master Stateroom Activities
Steve Gilpin, the most sought-after boat electrician in Carteret County, is experiencing the joy of joy-stick installation with the steering system. After running nearly twenty-seven million miles of wire in the Cherokee (I think that's what he said) and making the last one hundred and eighty connections to the joy stick's black box (brain), the system is almost ready to be tested. This control system is provided to Rolls Royce by Vector controls.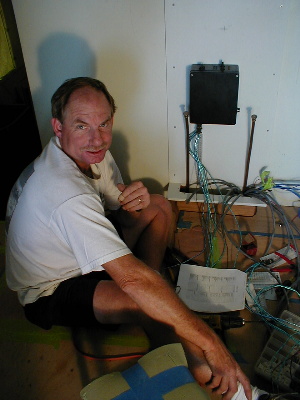 Steve Gilpin Doing his Thing
That crazy paint crew just won't quit! The boot stripe was barely dry before they commenced to sand and prime the topside, turning the bow area into a big white wedding cake with a dog on top. Within the next couple of days they will apply the white topcoat to the cabin sides.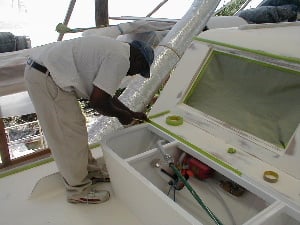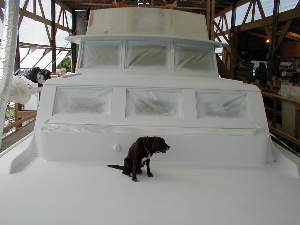 A Sanded and Primed Forward Top
All the book shelves and port lights are in. Below is the book shelf in the guest room, smiling with a big wooden mouth and gleaming port light eyes.
Guest Room Book Shelf
There might be only one fish factory left in North Carolina, and a handful in Virginia and along the Gulf Coast, but Peru is rotten with them! Peru is the world's biggest producer and exporter of fish meal and oil, far outstripping Chile, Denmark, Norway, and Iceland. Where does most of that stinky stuff go? To China, where it's used in feed for pond-raised shrimp and carnivorous fish. Although most fishmeal and oil is fed to chickens, cows, and pigs, the fastest growing sector is the aquaculture industry - fish eating fish with the help of a few middlemen! So much for the theory that aquaculture will make "wild" fishing obsolete. But when the "El Nino" weather pattern takes hold, the Peruvian anchoveta becomes scarce and the global fishmeal market is thrown off-kilter. How do the fishermen deal with these boom and bust patterns? Are Peruvian boats typically named after women like here in the U.S. of A? Is the smell of anchovy the smell of dinero? Inquiring minds must know - FishDoc, hijo, and amiga are headed for Peru this summer to see (and smell) for themselves. !Viva Pescado!
Signing off for now,
Barbara "Fish Doctor" Blake