Notes from the Field - "Cherokee" Huckins Restoration Project
14 February 2001
As Fat Tuesday approaches, the big blowout of feasting and indulgence before renunciation, the Cherokee crew pushes on with their own project of transformation and renewal. Soon this high and dry composite of wood, nails, and glue will once again be greater than the sum of her parts, and will know the "zest of swift passage, the rest of quiet anchorage, and a new world everyday as the horizon beckons," as Vincent Gilpin so nicely wrote in The Good Little Ship.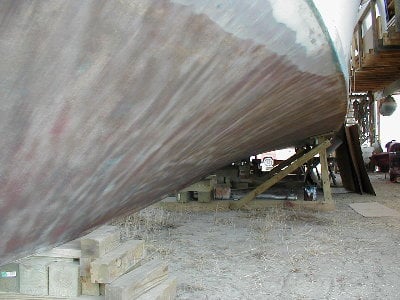 Port Side Deadrise
The sawdust is flying within the facility! Tom and Leonard have built a scaffolding floor in the stern of the boat to facilitate repair. Since removing the transom and deck, they've installed and lengthened both sheer clamps and both bottom chines. Tom is working on the laminated transom sheer clamp, which will temporarily get glued to a jig to hold its shape. "We will glue no wood before it's time," Leonard explained to Casey.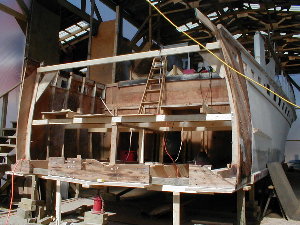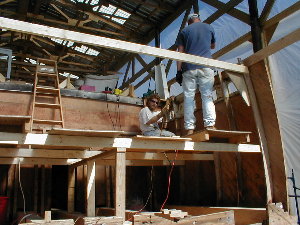 Tom and Leonard's Double Decker Stern Project
Leonard and Tom also made the lower transom frame, a curving laminated piece that will follow the deadrise of the bottom and the curve of the transom. These carved frames are normally referred to as "fashion pieces".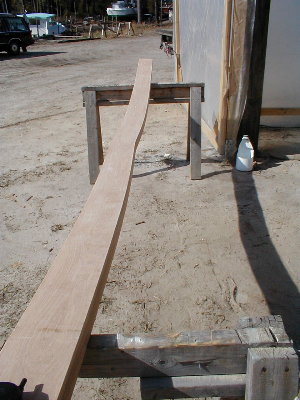 The Lower Transom Frame, A True Fashion Piece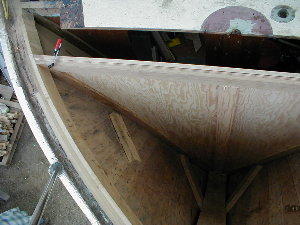 Looking Down into the Anchor Locker
John Stein is working on the fabrication of the anchor locker bulkhead. He has dry fit the bulkhead in place, and is ready to begin permanent installation. Meanwhile, Robbin is working in the watertank room - removing stringers and brackets for resetting and digging out rot in frames. She has built new frames for the tank room, including scarfs, plywood sister pieces, and gussets, all of which will be installed this week.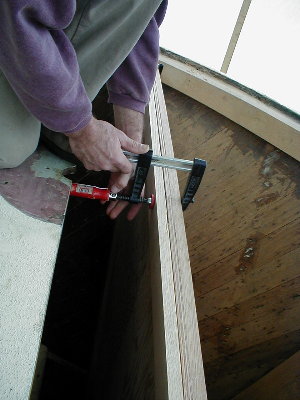 John Clamping Bulkhead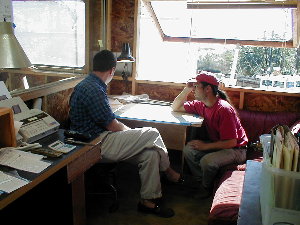 Lee Norris and Bryan, Great Minds at Work
Jeanette is sanding and scraping closet doors, window trim, and drawers. For the closet doors, she found it necessary to use chemical paint stripper.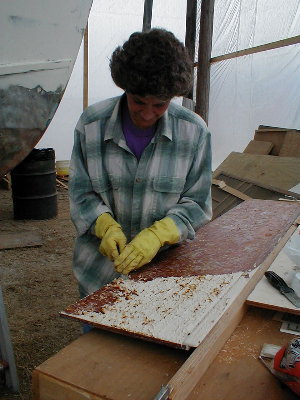 Jeanette's Chemical Peel Parlor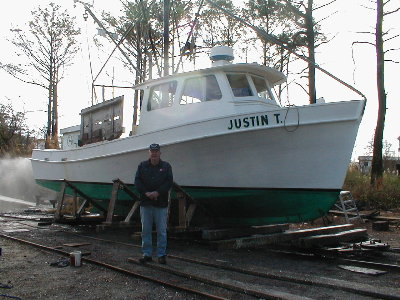 Ken Tillet, Bidding the Justin T Goodbye
An exciting change of hands is going on at Straits Railway. The Justin T, a trawler built by Bryan for Ken Tillet years ago, is getting hauled, painted, and prettied up for her new owner. Ken kept the boat years after he quit fishing, so his son Justin (the boat's namesake) could work her when home from college. "I hate to let her go, but I just didn't need that worry anymore, everytime hurricane season rolls around," Ken reflected. Chad, the new owner, is an enthusiastic fisherman from the Cedar Point area. "Most of the trawlers I've been looking at are just not enough boat for what I want. The Justin T is perfect. Built tough, I can take her out in the ocean if I need to, and rig her up for different things. I've been after this boat for a year now and he's finally agreed to sell her." Will he change Justin T's name? "Well, yes but not right away. I've got a feeling it's not easy for Ken to sell her, so I don't want to do anything drastic. But I'm thinking about naming her after my daughter." When a boat changes hands, guess there's more going on than just a financial transaction...
Signing off for now,
 Barbara "Fish Doctor" Blake