Notes from the Field - "Cherokee" Huckins Restoration Project
4 December 2002
As the December winds scatter Carolina pine needles everywhere, and the marsh goes from green to winter brown, it's hard to think about swimming. Nonetheless, the new teak swim platform that is getting fitted onto Cherokee's stern evokes upcoming days of hot weather and a refreshing sea. The platform, built by Jerry Johnson of Otway, weighs about 100 pounds and will serve to cover the action of the waterjets and protect them from damage, as well as provide a spacious area for swimmers when the boat is at rest.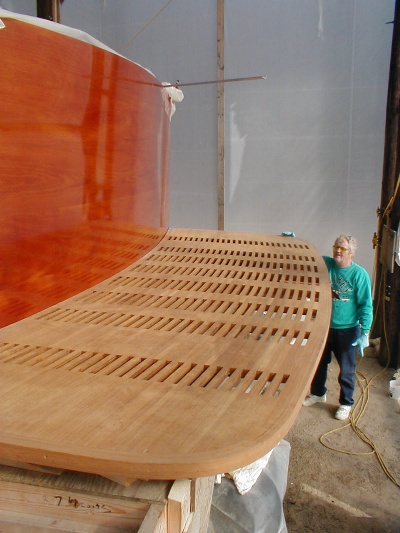 Norm Admires Teak Swim Platform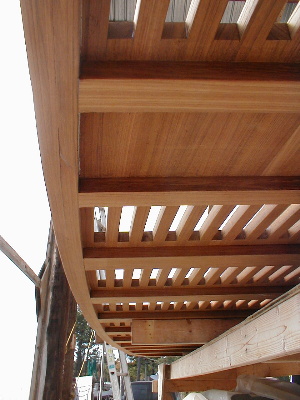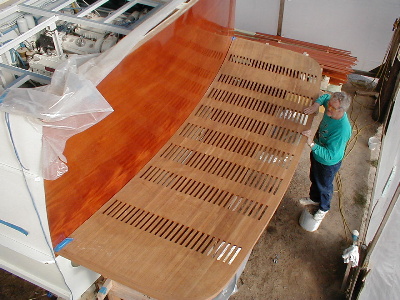 Bottom and Top View of Platform
A stout aluminum framework will be built for the underside of the swim platform, which will also help protect the waterjets and will handle any dock impacts.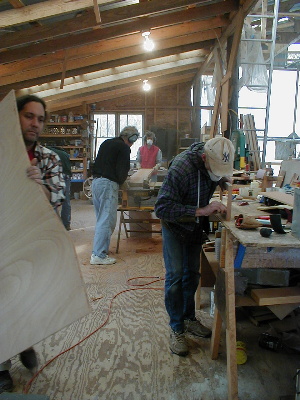 Busy Little Beavers
It's looking like Feliz Navidad at the Cherokee site with stacks of neatly wrapped packages - not toys, but beautifully varnished pieces that are protected in brown paper and set aside until the interior painting is completed. Kerry and Bill have sanded, varnished, and wet-sanded their way through original and newly-built objects, turning them into virtual mirrors of slickness and shine.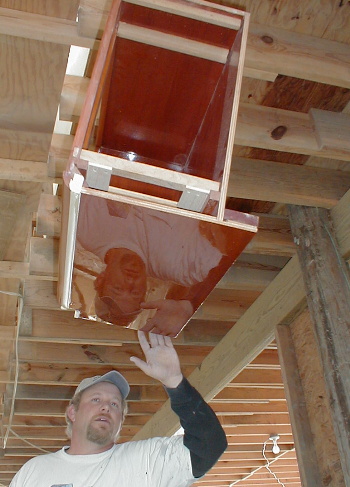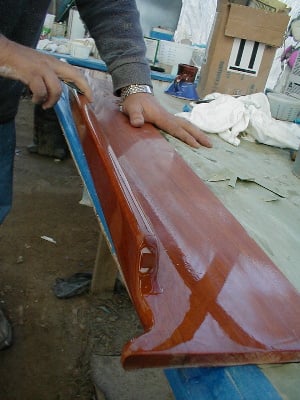 Kerry's Cabinet, Wet-Sanding a Shower Shelf
Trimwork is giving the Cherokee a tidy and finished look. Chris is shown below trimming out the electrical panel. Trim strips are being pre-finished and will be placed around the ceilings of the vessel interior.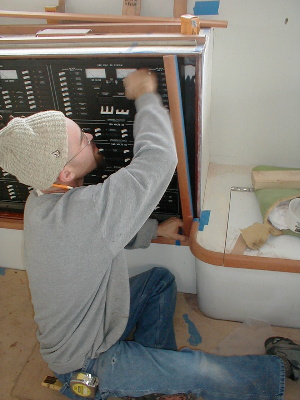 Chris Laying the Trim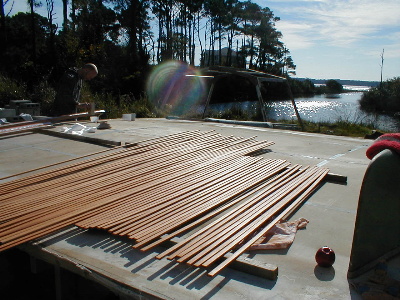 Trim Strips Drying in the December Sun
While perusing the Sea Chest, a "Foxfire"-style, prize-winning journal that Cape Hatteras School high school students have produced since the early 1970s, FishDoc came across an amusing interview of Jenette Stowe, a Hatteras midwife born in the 1880s. Her description of wanting to go fishing with her husband shows the fiesty spirit of an old-timey island woman. "I used to go fishing with him and one morning he didn't want me to go. I said, I tell you I am going. So I went down there and got in the skiff. After we got off a little ways he grabbed me up and threw me overboard. I came to the shore a cussing for everything I could lay my mouth and tongue to. When he come home I watched him walking up the path. He came up here to the door, he throwed his hat in and said, 'If the hat can stay in I can stay in, can't I?' I jumped at him - he run and jumped over the fence and I run him clear on down to his father's." And the couple lived happily ever after...
Signing off for now, 
Barbara "Fish Doctor" Blake