Notes from the Field - "Cherokee" Huckins Restoration Project
9 October 2001
Seems every NC Seafood Festival weekend a wild and wicked mullet blow storms through and reminds everybody that it's fall. But at least the weather is cool and crisp for optimum work on Cherokee. It's perfect for painting, especially since some of the crew fashioned a dust-free paint room within the webboat facility. Bill Brown is painting the engines white, and Bud is painting the oil pans and cupplings white.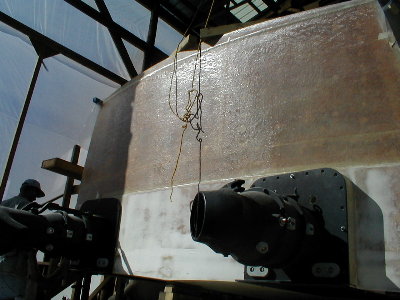 Autumn Light on a Pretty Stern
Leonard and Bill Davis are fiberglassing the bumper. Meanwhile, Jim continues the job of deck box construction. Below he's shown gluing in the supports for the lid.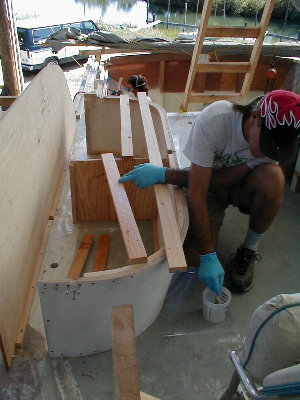 Jim Constructing Starboard Box
Stuart is busy epoxying, glassing, faring, and painting all wooden pieces that come his way. This week he worked on sections of the aft guest shower the shower seat, and benches.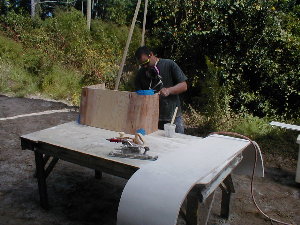 Settee Box by Stairs, Stuart the One Man Wood Processor
Tom is installing the vented loop for aft guest head, part of the Head Hunter toilet system. Earlier, he completed all the waste plumbing in the forward end of the boat.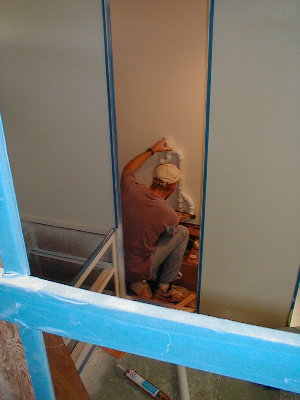 Tom Getting the Plumbing Level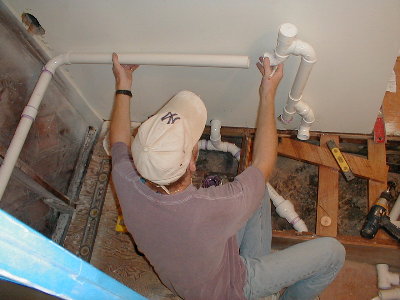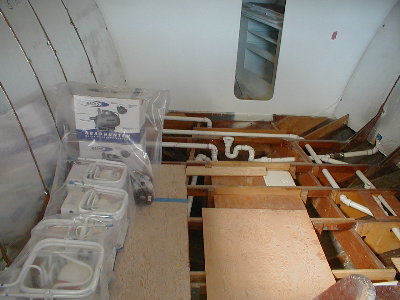 Tom Connecting Pipes, A View of Plumbing in Forward Guest Room
Bud is applying sound-deadening body schutz, an oddly-named black rubber-based compound, to the air intakes of the engine room. This will reduce engine noise considerably. Good thing the boat has come down with body schutz, and not the crew!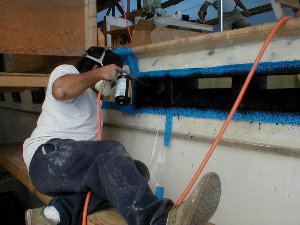 Bud Applying Sound Deadening Body Shutz
Jeanette and Norm attached fiberglass insulation to lead-shield sound proofing board, and placed it in the equipment room, a hidden area under the galley that FishDoc never knew existed until today. The room will contain the air conditioner compressors, the potable water pumps, the water maker, a bank of batteries, an inverter, and other associated equipment. Side vents will direct heat outside, and the insulation will prevent heat and noise from entering the forward stateroom and galley.
Norm Cutting Equipment Room Sound Insulation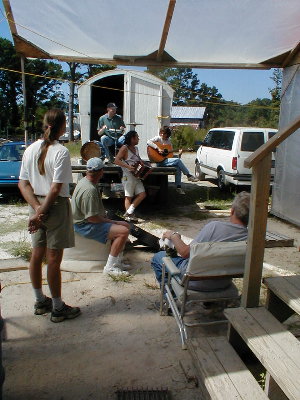 A Lunch Break Band Practice for the Seafood Festival
The Seafood Festival's Blessing of the Fleet had to be moved from the port to Taylor's Creek in Beaufort because of top-secret port-type security reasons. But the Creek was a perfect site, offering a close and tranquil look at the work boats. The boats ranged from fifteen foot skiffs carrying one or two people to a hundred-eighty foot menhaden vessel carrying an African American gospel band. As they passed the shoreside onlookers, a wreath was tossed from each boat in memory of departed fishermen and family members. "A lot of people lost at sea are never found," said Sonny Williamson of Marshallberg. "The family throws the wreath and it's free to float around. Maybe there's some connection there." There sure was a connection between fishermen and visitors during the Blessing, as everyone seemed moved by the devotion and bravery shown by fishing families entrenched in America's most dangerous occupation.
 Signing off for now, 
Barbara "Fish Doctor" Blake