Notes from the Field - "Cherokee" Huckins Restoration Project
12 October 2003
Smoldering bonfires from Hurricane Isabel debris are now drenched with Autumn rain, filling the air with the smell of wet ash. The Cherokee crew rolls right along with interior woodworking. Tom Parker finished hanging doors in the stateroom, guest rooms, and heads after installing locks.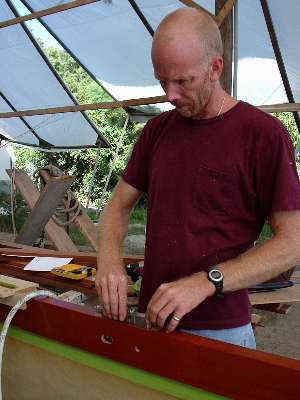 Door Lock Installation
Tom also finished up the trimwork along the console and entryway to the galley area. Just before the hurricane, Eamon Connelly - a Bostonian (love that accent) and specialist from Vector Controls - flew in and worked out a few kinks with the steering system. Then the crew went for a mini shake-down cruise along the Straits. The Cherokee was amazingly smooth, cutting through the choppy water as if it were slick ca'm, just like the Cedar Island ferry.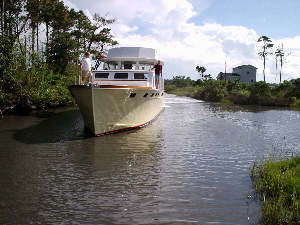 Coming in After Shake-Down Cruise #1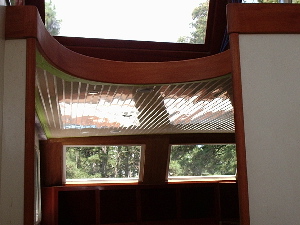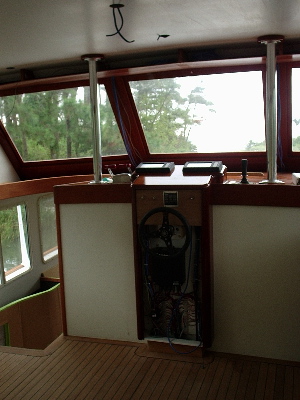 Entryway Trim to Galley, Console
Leonard and Chris installed the original hand rails to the Huckins. Chris glued up the wainscotting, and installed air conditioning vents such as the one depicted below. Pretty!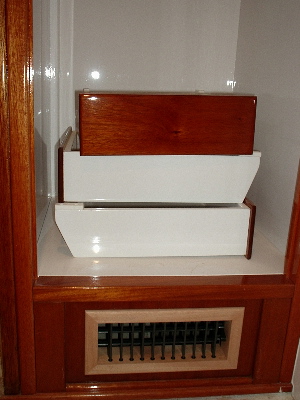 Air Conditioning Vent below Loose Drawers
Ms. Syndey Jane Wise, age 8, agreed to model some of the new linens and bedspreads that were made up in preparation of the Darden's first solo trip to Cape Lookout. Below left is the aft guest stateroom, which of course has a matching bunk across the way and a head with toilet and sink. To the right is the V-Berth.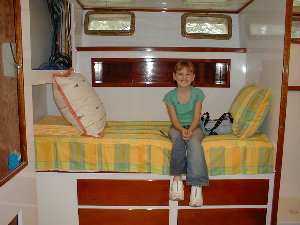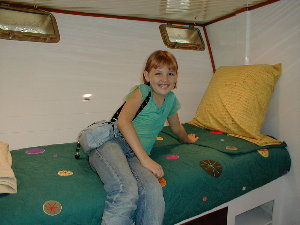 Guest Stateroom and V-Berth Linens
Here's how the master stateroom is shaping up. This sofa converts to two pilot berths (i.e. bunk beds), across from the double bed. Impressed with the color scheme? Thank interior decorator Catherine Williams.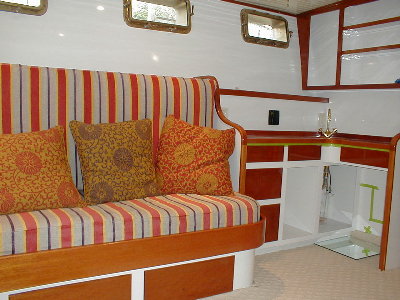 Master Stateroom
Here's Syndey relaxing after an exhausting modelling session (she was paid in greek olives and humus - she said it was almost as tasty as her favorite snack - pickled ocra.). Note the freshly cushioned deck bench. Yet to be installed is the wing door that will be to Syndey's right, our left.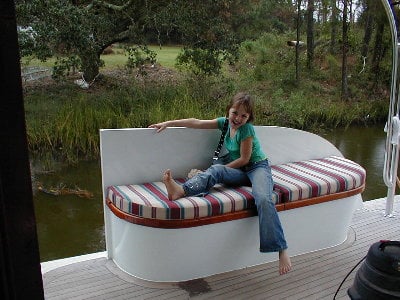 Deck Bench with Cushion
Milton and Ruby Styron of Davis had all their belongings that were somewhat salvageable in boxes outside their home. The fisherman and his wife, who have lived in their modest house on Croaker Street for forty some years with no flooding, had several inches of water in their home from Hurricane Isabel, but were fortunate to move in with their son and family right across the street in a raised house. They've had the Methodist Men's group come help, along with various college students that volunteered their time to come to the coast for assistance. "One of our children called after the storm and said, 'Now, Mama, when people offer to help you, PLEASE accept!' laughed Ruby. "One student came down and he had pierced nipples. He worked hard and was the nicest fellow. We certainly are meeting new people through this experience." She also told about finding a spot of blood on her sock after removing her boots. She examined her toes and could find no cut or scrape. The next day when she went to put her work clothes back on, she discovered a poor tree frog that had been squished in the toe of her boot! All Milton Styron could say, momentarily resting in a chair next to his gutted-out home beside boxes of old 78 rpm records, was "We are blessed. We are blessed."
Signing off for now,
Barbara "Fish Doctor" Blake