Notes from the Field - "Cherokee" Huckins Restoration Project
15 January 2003
These January mornings are so cold that Casey has to bust open icy puddles with his paw just to get a drink. But the Cherokee facility is toasty warm with all woodstoves in full use. Welder Kevin DeMott is working hard on the aluminum steps that will lead to the fly bridge. Below are two stages of the process, and then the crew is shown carrying stairs away so Kevin can complete the welding at his shop in Marshallberg.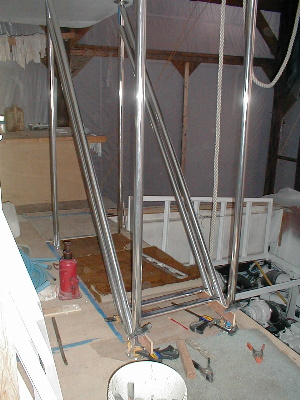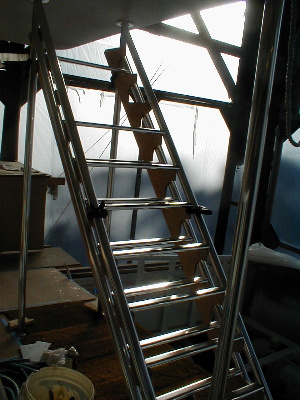 Stages of Steps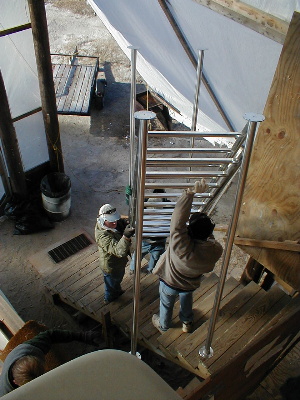 Moving the Stairs for the Final Weld
Interior sanding, painting, papering and painting again continues on. Below is Bill Davis in the V-berth closet, and to the right is the laundry room after final paint job - shiny!!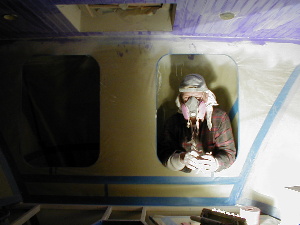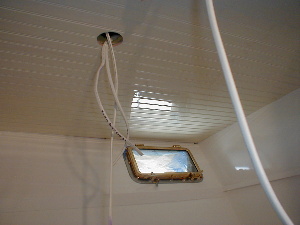 Fine Paint Work
Bill Brown is back, finishing up the hydraulic system for the water jets, and planning to start the engines in the next week or so. He's also putting the water makers on-line and bringing up other systems on the boat.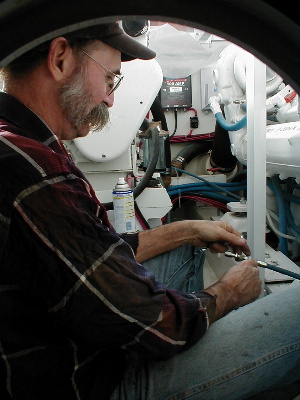 Bryan is building the galley settee, where folks can "set" and "have tea." The curved base and the attached cabinet are built of plywood that is laminated in place.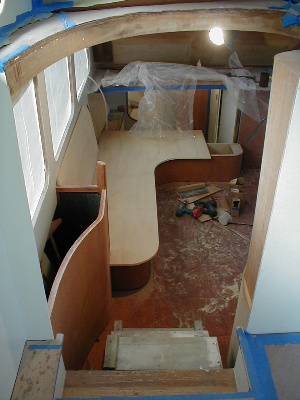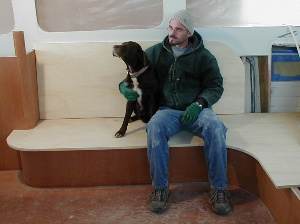 Settee, Modelled by Chris and Casey
Tom Parker has been building the corner posts and window frames in the pilot house. Leonard has been doing the final sanding in the pilot house, as well as helping Tom. Below shows a detail of the post base. Below (left and right) depicts the aluminum posts that support the hard top.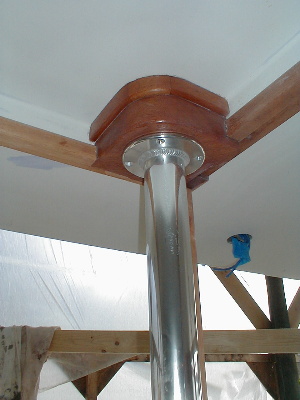 Aluminum Post Detail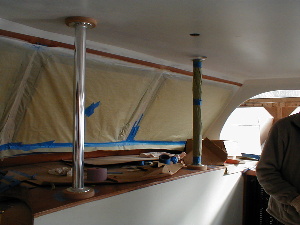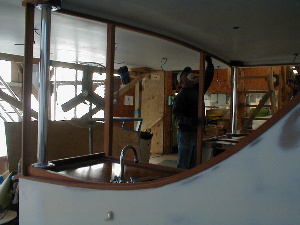 Hard Top Support Posts
Nicholas Spark's latest novel "Nights in Rodanthe" has nothing on reality, as once again truth is far more interesting than fiction. Fishdoc headed up to the Hatteras Island community in January for Old Christmas, as Rodanthe is one of the few U.S. towns left that celebrate Twelfth Night. After the oyster shoot, the community served up steaming hot plates of chicken pastry. The meal was cooked not by the elderly women who have reigned over the community kitchen for decades, but their daughters - many now living in Chesapeake, Virgina. "We come and do this because Rodanthe is where we are supposed to be this time of year," said one woman. "We want to keep the tradition going." Tradional fiddle music and old fashioned brawling used to be part of Old Christmas, although this year the band hailed from Norfolk and, much to the disappointment of Fishdoc's son and nephew, no fights broke out. Old Buck the mythological bull showed up, though, led and protected by John Herbert, Jr. who drove up from St. Petersburg, FL to carry on what his father used to do. Old Buck didn't kick and stomp like the old days, but the horned beast still awed every child in the room.
Signing off for now, 
Barbara "Fish Doctor" Blake